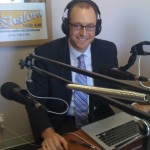 November 23, 2011 – Haifa, Israel
Radio Shalom did a live show from Haifa, Israel, which was simulcast in 20 countries for the exclusive broadcast on the Technion Institute of Technology. Technion was just awarded the Nobel Prize in Chemistry for the third time in 6.5 years. The show focused on the role of Technion in contributing to the Israeli economy and to technological innovation around the world.   The show featured Hershel Recht (Canadian Technion Society), Professor Maital (Technion), Jack Bensimon (Risk Diagnostics, Inc.) and Edward Nagel (Principal, nagel + associates inc.) live from the Technion studio in Haifa.
To listen to an archive of the show, click on this link.