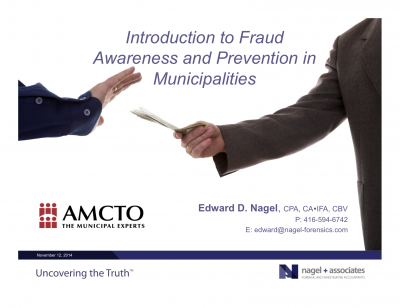 WEBINAR: Wednesday, November 12, 2014, 12 noon (EST)
Session Description:
Fraud and white collar crime is undoubtedly one of the top ten "stay-awake" issues for municipalities. Schemes can be simple or elaborate but are only limited by the creativity of the fraudster. Fraud schemes can range from fictitious vendors and invoices, to ghost employees on the payroll, to unauthorized expenses. These and other common fraud schemes can unleash havoc on a municipality, particularly financial harm. Given that prevention—rather than detection—is the best deterrent against fraud, this webinar will provide municipalities, their employees and management with the tools and skills necessary to identify the "red flags" or potential indicators of fraud that commonly victimize municipalities, in order to mitigate this real and known risk.
What You Will Learn:
What is fraud and why do people commit fraud?
What is the profile of a typical fraudster?
What are some of the common fraud schemes that often victimize municipalities?
What are the 'red flags' or potential indicators to identify fraud?
What are some of the strategies for municipalities to prevent/detect fraud?
What to do when you suspect fraud—cradle-to-grave steps in a typical forensic investigation
Why Attend:
Participants will learn what drives people to commit fraud
Participants will learn how to identify the potential 'red flags' of various common fraud schemes
Participants will have an opportunity to apply skills learned through interactive fraud case studies
Click here for details and to register for this upcoming webinar to be delivered by Edward Nagel in partnership with AMCTO.